Are you going on holiday? Maybe you've already been? If so, we're sure you'll have taken lots of pictures! Regardless of whether they're pictures of yourself, friends, family or stunning scenery, we're able to print all of your pictures to canvas. Looking for new decorations for your home? If so, you've certainly come to the right place. We're able to print all of your jolly holiday pictures to canvases, in whatever size you want them, so why not get in touch with us today? The team at Wotton Printers strive for perfection with each and every canvas print that we provide to our customers, which is why we firmly believe that we should be your first and only port of call for holiday picture canvas prints.
If you've been on holiday this summer, or even if you were a few years ago, we can print your holiday pictures to wonderful canvases. Perfect for hanging up in your home, in any room you like! Impress your friends, family and colleagues with your brilliantly printed holiday snaps by having them transferred to canvas. Able to print your wonderful holiday pictures to a canvas size of your choosing, we have canvases perfect for every wall in your home.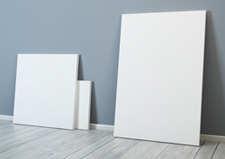 Why Choose A Canvas?
There are many reasons to have your holiday pictures printed to canvas, which is why we thought we'd outline them here. Some of the key reasons to choose a canvas when looking to display your summer holiday pictures include:
Can Tie A Room Together – Regardless of what picture is printed on your canvas, it will really help to tie the room together. You can even have your canvas framed, most canvases can be framed with 'float frames' if you're going for a more modern look, or standard frames for a traditional feel.
Customisable Size – When we print your holiday pictures to canvas, you're able to choose a style that fits the size and feel of your room. We strive to provide canvases to whatever size you like.
Cost Effective – You won't find a more cost effective canvas printing service than the one we offer at Wotton Printers. We're able to print your holiday pictures to canvas for a truly competitive price.
Can Print Whatever Picture You Like – No matter what picture you want printed onto your canvas, it's sure to look great. There is no limit to the pictures you can have printed.
Visually Pleasing – Having your holiday pictures printed to canvas can be very visually pleasing. Imagine having a canvas of a stunning beach in Hawaii… it would be absolutely brilliant.
As you can see, there are many reasons to choose canvas printing when looking to get your holiday pictures printed this Summer. We strive for excellence with each and every one of the canvases we print, which is yet another reason why we believe that we should be your first and only port of call when you would like your holiday pictures printing to canvas.
If you require additional information about the canvas prints that we offer to our customers, be sure to get in touch with us today. We're always here and on hand to take your call, answer any questions and deal with any enquiries! We look forward to hearing from you and printing your lovely holiday pictures onto canvas for you.