The team here at Wotton Printers have collectively printed more documents than the number of days we have worked as printers in Newton Abbot! This just goes to show the high quality work we deliver and how our customers are constantly choosing to go back to our team of professionals for all their printing needs. We have pulled together just a small hand full of pull up banners we have recently printed as we would like to prove to our customers how our quality of work is always constant, if not better each time.
Having worked with a large number of customers in Devon, each piece of work we completed is designed, styled and finished differently to the previous. This means that our team at Wotton Printers have designed and printed hundreds of pull up banners all to different tastes and designs over the years, which is amazing! The purpose of this blog today is to show our customers a few of our recent projects and explain the benefits, options and uses you can receive from having a pull up banner for your business in Devon.
Benefits of Having a Pull Up Banner
There are many benefits that come with having a pull up banner, from the fact it can be used multiple times to the hard wearing and cost friendly solution it offers for your business's advertising. Whether you are looking to use your pull up banner to advertise, inform, market or promote your business, you will be amazed with the high quality printing Wotton Printers has to offer. The list of benefits for having a pull up banner for a business is phenomenal, but we have managed to scale down the list to just ten. Our top ten benefits of having a pull up banner for businesses in Newton Abbot are:
Easy to set up and transport
Helps your business to stand out
Can attract customers from afar
Can be reused multiple times
It is designed to resemble and suit your business
Cost friendly way to advertise your business
Increase brand awareness
Can be used in a variety of places eg. work, events, meetings, fairs etc.
Save on floor space both in the workplace (storage) or the event
Printing is completed to the highest definition, ensuring a top standard representation of your business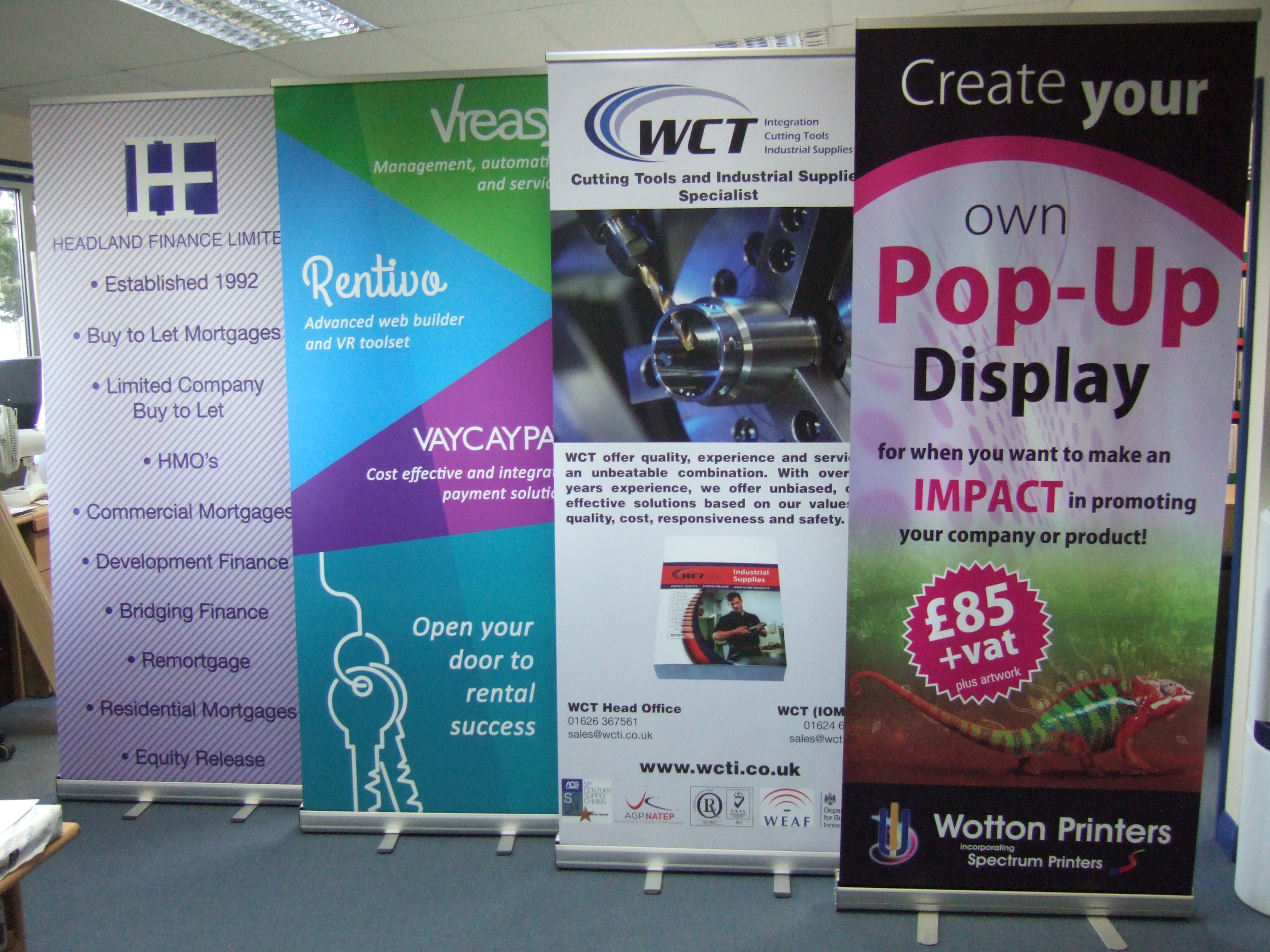 Pull Up Banner Options & Uses
The options and uses for your pull up banners offer can include:
Can be used at your workplace or in a meeting, event or exhibition
Various styles, finishes and sizes to choose from
You choose the design to suit your business
Can advertise, inform, promote or market your business
Display your company's logo or any relevant information about what you're promoting
Short, simple and effective way to inform customers what you do or the benefits of the product
Announce new products, services or an event your business is partaking in
Provide a port of contact for your business, eg. phone number, email or website
No matter your needs for having a pull up banner in Newton Abbot, it's good to know you can always count on Wotton Printers for a fast and reliable service! Get in touch with our team today to discuss your needs and options for your pull up banner and ways you can make the most of your banner and the services your business offers today. Avoid disappointment by choosing Wotton Printers for all your pop up banner related needs in Newton Abbot. You're sure to be impressed with our range of printing services, come and take a look today!