If you are in search of a cost friendly solution to your business's advertising at an exhibition or event, our exhibition stands are the perfect choice. Having been printing in Newton Abbot for a number of years now, we have developed an incredibly strong reputation as the leading choice printers in Devon. So whether you are looking to promote, market, advertise or simply inform your customers what it is you do, having an exhibition stand is one of the most suitable ways to do so. You will discover a whole new way on how to advertise once you have your exhibition stand! This is mainly due to the fact that you can use it multiple times as well as showcase the very best assets within your business. Regardless of your needs for having an exhibition stand in Newton Abbot, it's good to know you can always count on Wotton Printers for a professional, reliable and friendly service.
Our exhibition stands have been an extremely popular choice of printing now more than ever, due to businesses realising the potential these exhibition stands offer. From the simplistic yet highly effective solution for advertising to the ease of use they offer to informing your customers and even the cost effectiveness and simply assembling. Your exhibition stand will open up a whole new path for opportunities, of which are sure to allow you to completely make the most of your business, the products and services you have to offer. Our team at Wotton Printers have put together our top reasons for having an exhibition stand and the benefits and options that come with them. Please take some time to read through these points as we assure you will be impressed if not moved into getting your very own exhibition stand for your business in Newton Abbot.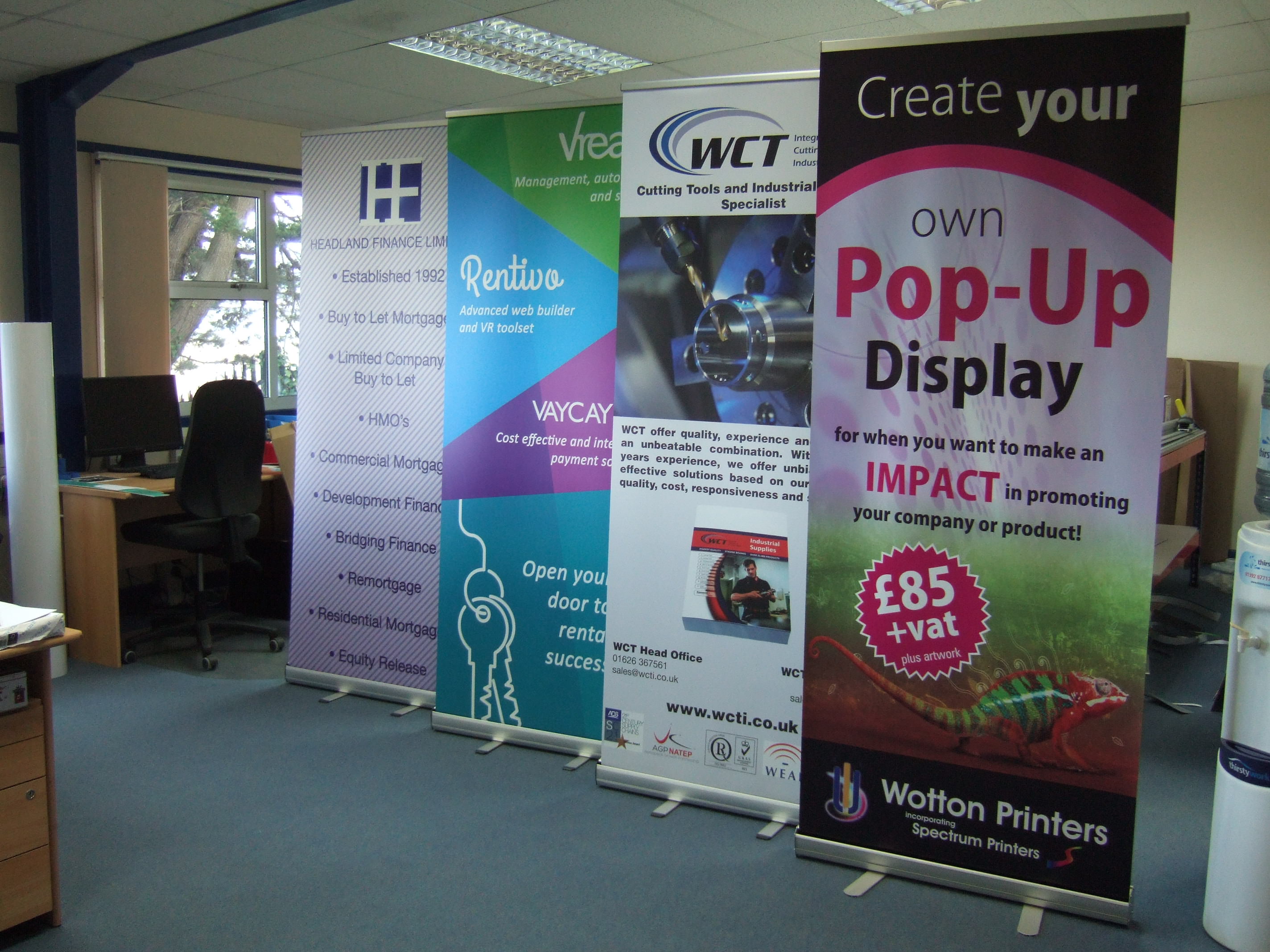 Exhibition Stand Options
By having an exhibition stand for your business you will learn that there is many options that come with them, some include:
You choose the style, design and finish of the stand
Provide your business's contact info, eg. phone number, email and website
Inform, advertise, promote or market aspects of your business
Announce new events, products or services at the exhibition
Your exhibition stand suits your business
Easy way to show your customers what it is you do
Can be used again at your next exhibition
Can include: text, images, websites, facts or even benefits of your product or service
Benefits of Exhibition Stands
Impressed with the options you have for your exhibition stand in Newton Abbot? Then you'll be amazed at the benefits, take a look below to find out just a handful of the best benefits you will receive from having a exhibition stand.
Cost friendly solution to advertising
Can be used many times
Easy to assemble and transport
Helps your business get noticed
Increase brand awareness
Can be used when at an exhibition or back in your workplace
Helps create a great first impression of your business
With Wotton Printers, your exhibition stand will be printed in the highest quality, ensuring an amazing representation of your business
If you are looking to have an exhibition stand in Newton Abbot for your business, look no further than Wotton Printers for a cost friendly, reliable and reputable printing service. Our team of printers will work closely with you throughout all stages of your exhibition stand printing in Newton Abbot to make sure all of your needs have been catered for. So waste no time in giving us a call today and begin the process to make the most of your business with Wotton Printers. We look forward to hearing from you.